I did it , I passed my Driving test today.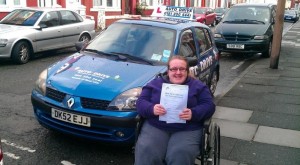 Thanks to my very patient instructor Paul, i now have the best Christmas present ever, my INDEPENDENCE, i can now go places on my own without having to ask for a lift, as a wheelchair user that means so much to me.
My new adapted vehicle arrives early next week, and i cant wait to get out and about in it, Paul has promised to come out with me for my 1st journey, and then its my PASS PLUS. Thank you so much Paul for all your help and guidance my gratitude is eternal.
Becky 20 from Wallasey.