One of Wirral's longest running driving school offering Manual, Automatic and Specialist Disability Tuition
Patient, Friendly Driving School. Highly recommended by past and present pupils
Manual
Our manual driving lessons give our pupils the opportunity to learn to drive safely and at a pace to suit themselves, whether it is a intensive course taken over a few days or weeks or you just want 1 or 2 lessons a week you can be sure AutoDrive will give you a service second to none.
Automatic
An Automatic car can reduce the stress of learning to drive it takes away the need to master a clutch pedal and a gear selector, you only need to use 1 foot for the brake and accelerator pedals leaving your hands free to steer on an Automatic so with less things to use in controlling your car you can concentrate more on the road leaving you a lot less stressed at the end of your journey.
Disability
Auto Drive School of Motoring is the only driving school to offer Manual, Automatic or Full Adapted disabled driving lessons. Paul Hughes has been teaching specialist disability tuition for over 24 years and has the experience to help anyone gain the skill of driving.
We are the only driving school on the Wirral to offer Manual, Automatic and Specialist Driving Tuition

ALL our instructors are fully qualified and trained to the highest standards

Our cars are modern and have dual controls for your peace of mind

We come highly recommended and many of our pupils have come from other driving schools
Contact Auto Drive to find out how we can get you to test standard quickly and make you a confident safe driver
Click for more information on Wirral's Number 1 Driving School
What our past pupils have to say...
Sophie Wright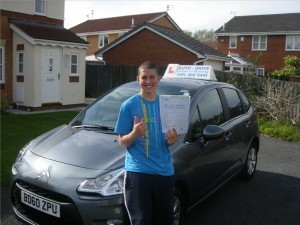 Mike Druda
Becky
Get in Touch
To find out more information, please use the form to the right or contact on the details below
Find us at
45 Beaufort Drive, Wallasey Village, Wirral, CH44 2DS
Give us a ring
Office
0151 200 5441
Mobile
07930 483403
Mon - Sun, 8:00-22:00