Dear Paul
I don't know how to find the words to say thank you for teaching me to drive, I have enjoyed every minute.
However firstly I really should thank Chris Kelly' s receptionist  who suggested I should contact you as they couldn't provide an Instructor who could cope with my needs.
I was so nervous before I started my lessons, fearing that I'd left it way too late in life to take such a big step, but from my first lesson you gave me the confidence to take each day as it came, even though I was very apprehensive and a bit of a wuss at times.
Adapting a piece of foam and a carpet strip into my arm support goes way beyond the call of duty, you should really patent this idea and take it to Dragons Den, make your fortune and buy Grumpy Cottage!!!!!!!!!!!!!!!!
The lessons have been so much fun, your guidance and advice will stay with me for ever, " Don't look at the truck" is etched in my brain" and as for the bird of Prey in Frodsham! words fail me and that doesn't happen often.
To give such a huge variation of driving experiences of have been invaluable I feel confident That I will to be able to travel to all the places I need to visit, but conning me into driving through the Birkenhead Tunnel was extremely sneeky.
Could you send my thanks again to Joy for giving me my Practice Test, It was lovely to meet her and tell her to remember to let me know about her "Run".
And thank you Angela for calling on Tuesday, it was so good to chat to you.
Once again thank you, thank you, nowhere in my wildest dreams way back at the end of September, did I think it was possible that I would learn to drive, let alone pass my test first time.
Much love
Dee, Wallasey
---
At the age of 68 I decided to learn to drive in an automatic car as it would be easier and sufficient for my needs. Friends had recommended to me the excellent tuition of Paul Hughes, Auto Drive School of Motoring, Wallasey.
This company has a fleet of modern, well maintained, automatic/manual geared cars. Some of these cars have additional features to enable the skill of driving to be more quickly accomplished, these include; books, a video system/ dvd, models and even a steering wheel to practice steering at home. In my opinion the driving course is well structured, so that you quickly gain increasing confidence in your ability to drive. This is further evidenced by a personal progress chart, which shows your steady improvement during the period of tuition.
My tutor was Paul Hughes, whose knowledge and qualifications cover an extremely wide range of driving tuition. I have found that learning to drive under Paul's guidance and immense experience has been a great help to me. He has considerable patience and a good sense of humour. This is very important when one is learning to drive and gives greater confidence.
I have no hesitation in stating that if you wish to learn to drive, you will find that the Auto Drive school of motoring is a sure way of mastering the skill of driving.
Doris O'Connor, Wallasey.
---
I need to pass my test quickly for my job.  I chose Auto Drive because from the minute I contacted them they were so professional over the phone and getting me some lessons booked to suit my needs.
I was allocated Paul as my instructor , he was just the best. My lessons were structured to my needs with just enough push when I needed it with plenty of encouragement and fun.  I was dreading doing any reversing but Paul made it so easy for me that I really had nothing to worry about.
I passed my test today first time and now the whole world has opened up to me.
Thanks a million Auto-Drive and Paul
Michelle 26, Upton
---
Dear Paul
Thank you for your assistance and training in teaching me to adapt from "normal driving" to my new car converted for disabled operation using manual controls rather than feet.
I was very nervous in altering my driving method. I am now confident again.
In addition you advised me on the fitting of extra mirrors and their operation.
Your assistance has enabled me to achieve the necessary confidence and knowledge to be safe on the road, and I look forward to enjoying my driving to Scotland and the South Coast again with my wife.
Yours sincerely
Paul Gripton, Greasby
---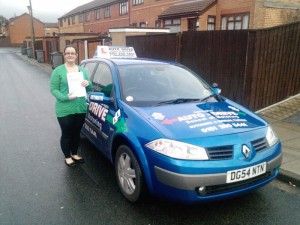 Hi my name is Alison,
"FRIENDS!!!" decided to book me some driving lessons for my birthday.  When Paul from AutoDrive turned up on my doorstep, I nearly fell over with the shock as I didn't know a thing about it.  I eventually got into the car and Paul took me to New Brighton to start my driving lesson, somewhere quiet he said Ha! the world and his wife where there to see me.
When we did get going I found I really enjoyed my lessons, and with Pauls help and professionalism, together with his sense of humour soon found myself ready for my driving test which I passed FIRST TIME!!!
Thank you so much Paul and AutoDrive for everything.
I am now going out to buy my own car who would have thought that.
Alison.
---
Hi,
I would like to say thank you to my instructor as i passed my test on Friday.
I switched to your driving school around 4 weeks ago and I have learnt more from you than I did the 3 months I was with the other driving school.
I appreciate you taking me on as a student even though i was only with you for 10 lessons, they were fantastic lessons.
My instructor made me feel at ease and positive about driving. So thank you very very much.
Kathy Powell Wallasey